In case you were wondering, you indeed are at Young and Crafty! I was tapped out on figuring out all of that HTML code stuff so I enlisted some help.
Mad props and a million thanks to Courtney over at
Not So Homemade
, she fixed me up with an amazing makeover! I absolutely love everything she did and she was incredibly wonderful to work with. I can be quite demanding and she didn't complain ONE time!
I bet you can't guess where I got the idea for this blog design... maybe
here
,
here
, or
here
! I love me some yellow damask :)
Here are a few things you will find over on Courtney's blog.
Like this adorable stool makeover!
Or make your very own magazine/recipe holders out of a cardboard box!
Or this delicious looking green bean recipe... yuuummm!
So, if you haven't checked out Courntey at Not So Homemade, what are you waiting for!!??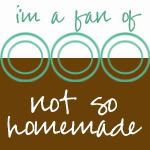 Seriously Courtney... a million, cajillion thanks to you for designing this beautiful layout for me!