This is a Sponsored post written by me on behalf of Moen, Incorporated for SocialSpark. All opinions are 100% mine.
I would describe my home decor style as a mix between modern and shabby chic. It's definitely an eclectic mix! My kitchen and bathroom appliances tend to lean towards the more modern style. That's why the Kiran Spot Resist kitchen faucet would fit absolutely perfectly into my kitchet. It's definitely sleek.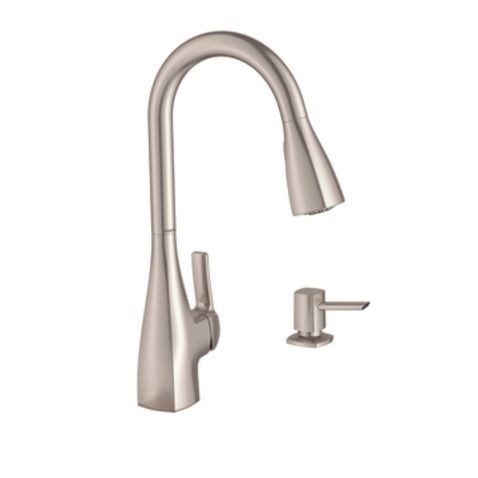 I love the fact that the Kiran Spot Resist one-handle pulldown kitchen faucet is fingerprint resistant and spot resistant. The finish protects against these spots. That means one thing in my book, less cleaning. I hate cleaning so the less I have to clean the better. 
Another great thing about this faucet is that the arch is high. This is a good thing because when you pull the faucet nozzle down to use the sprayer part, you have more wiggle room in your sink to clean dishes or clean your sink. Once you are done, this faucet has a relax system so the nozzle goes right back in place with a secure docking system. 
You can follow Moen on Twitter (@Moen) or on Facebook (https://www.facebook.com/moen?fref=ts) to learn about new products and stay updated. 
So now that you have seen how beautiful and modern these faucets are, I'm sure you are wondering where to find one right? Lowe's is the perfect place to go pick one up for your home. One thing is for sure, if you buy a Moen faucet for your home, people will compliment it and ask where you got such a cool faucet.