This is a Sponsored post written by me on behalf of ZzzQuil for SocialSpark. All opinions are 100% mine.
I received ZzzQuil from P& G recently to test out and see if I like it. I'm sure most of you have heard of the "Quil" products such as NyQuil and DayQuil. I love and have used those when I am sick for a long time. That being said, I was excited to try ZzzQuil out. Often times I find that I am restless at night, especially during school. I go to bed with a lot on my mind and run my to do list through my head over and over. ZzzQuil has an active ingredient called diphenhydramine HCI that helps reduce the time it takes for you to fall asleep when you are having difficulty falling asleep so that you can sleep like a baby and wake up feeling refreshed for a new day.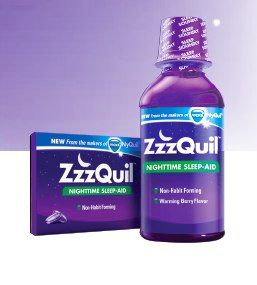 I received the liquid form of ZzzQuil. It was grape flavored and I liked it. I'm kind of a weirdo though and like the taste of NyQuil and DayQuil too :) 
The first night that I took ZzzQuil, I don't think I slept any differently. It took me the same amount of time to fall asleep and I woke up several times throughout the night. However, the other two times I have taken ZzzQuil, I have literally slept like a baby. I felt great the next morning. You might think that a sleep aid might make you tired, but it didn't! So would I recommend it for occasional sleepiness? I would!
Be sure to like ZzzQuil on Facebook. If you happen to go out and buy some to try, be sure to tweet about your experience using the hashtag #ZzzQuilNight.